RESEARCH: THE "R" IN ZRT
Research is at the heart of everything we do. We are actively involved in over 60 research collaborations in 9 countries. These collaborations are primarily with academic institutions and include some with NIH funding, while several are with research organizations or hospitals, and the Centers for Disease Control.
The simple, minimally-invasive and innovative testing methods that are the hallmark of ZRT came about as a result of years of careful research and validation. Through our ongoing research efforts, the methods we use are continually being validated and ZRT Laboratory remains at the forefront of research in all the areas related to our commercial testing: 
Estrogen metabolism
Urinary and blood toxic and essential elements
Hormones and sports medicine
Menstrual cycle hormonal patterns
Stress
Cardiometabolic risk
View our published research papers and a list of abstracts and posters presented at scientific meetings.

Research sample types that we test include saliva, serum, capillary blood collected via finger stick (dried blood spot, DBS), and urine. The range of testing options we have developed is suited to research applications because samples are easy to collect, store, and ship for testing, and our results are highly accurate. Because collected samples are stable for weeks (saliva) or months (DBS and dried urine) and do not need to be shipped frozen, research can be carried out even in remote areas and samples shipped via regular mail.
The table below summarizes the main features of our sample collection methods from a research perspective: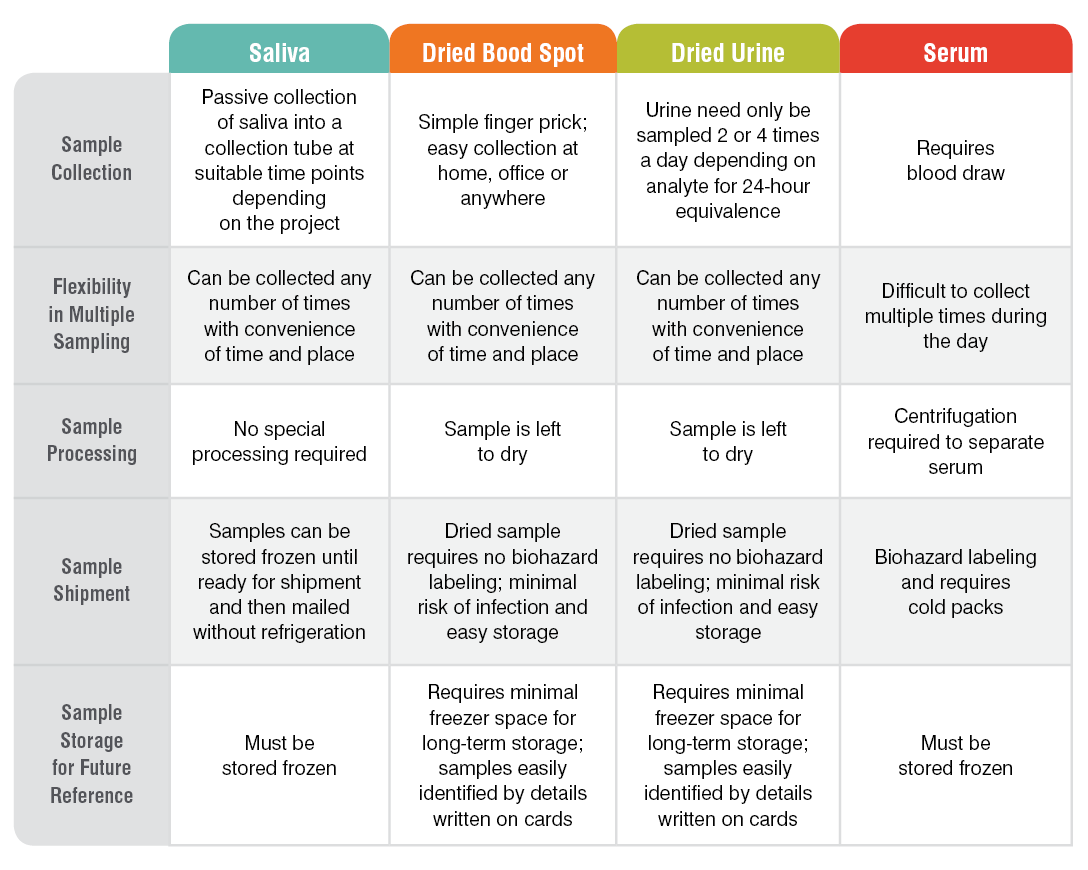 We invite collaborations with clinicians involved in research, including partnerships in clinical trials that require a CLIA-certified testing laboratory for analyses. We provide sample collection materials for serum, saliva, dried blood spot, or dried urine samples. Research samples are tested at ZRT by state-of-the art methodology, including FDA-approved immunoassays, enzymatic assays, inductively-coupled plasma mass spectrometry (ICP-MS), gas chromatography tandem mass spectrometry (GC-MS/MS), and liquid chromatography tandem mass spectrometry (LC-MS/MS).
For more information, we also have technical specifications of our tests available.
If you are interested in a research collaboration with ZRT, or if you wish to partner with us for clinical trial testing, contact us for more information.