Cortisol Awakening Response
The Cortisol Awakening Response – also called CAR – reveals more detailed clues that help in assessing adrenal hormone/HPA Axis dysfunction. This testing is often useful for cases of PTSD, major depression, chronic fatigue syndrome and other severe stress conditions.
During a normal cortisol awakening response, adrenal hormone levels should increase 50% in the first 30 minutes after waking for the day and then begin to progressively drop through the afternoon and evening. To capture this response, three – rather than one – morning saliva collections are needed to properly chart the diurnal cortisol curve.
Cortisol Awakening Response Sample Collection
6-Tube Collection: Six cortisol collections in 24 hours is the most common method for assessing CAR. Start saliva collection within five minutes of waking for the day, followed by a second sample at 30 minutes, and a third sample at 60 minutes. The rest of the diurnal rhythm can be assessed at the normal time intervals – noon, evening and night (shown below).
4-Tube Collection: Alternately, CAR can be assessed with four cortisol collections in 24 hours. When using this method, collect a sample immediately upon waking, 30 minutes after waking, then at noon or evening, and night.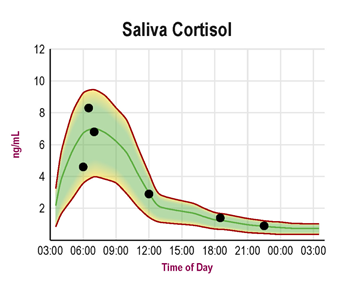 The ZRT Adrenal Stress kit offers the Cortisol Awakening Response profile. Just look for the Cx6 (cortisol x 6) indication in the profile on the Stress & Adrenal Hormones page.
Blog: How to Use the Cortisol Awakening Response (CAR) in Addressing Adrenal Function
Learn More About Hormones & Diurnal Curves
How Diurnal Curves Affect Sleep
Diurnal Curves for Chronic Stress