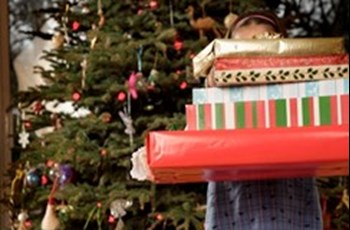 The holiday rush is upon us and like everyone else you probably find yourself in a frenzy of shopping, parties, and the round of Christmas craft fairs, concerts, and happy hours with friends.
Actually, I'm having far too much fun this season, but on top of work and chores, aging parents, aging dogs (who have lately forgotten they're house trained), aging knees, and an empty nest (which is about to fill back up to overflowing)...well it takes it's toll.
But far from complaining, oh no, ho, ho, I am simply stating a fact: Christmastime can be a stressful time!! Mostly GOOD stress, one hopes, but stress none-the-less.
So my challenge this season is to stay cool in the midst of all the holiday chatter and cheer, to keep Jingle Bell Rock from getting stuck inside my head, and to find gifts for my favorite people that rather than cluttering their closets may help to unclutter their lives.
In mulling this over, I keep arriving back at one essential truth: It's about BALANCE. That's it. That's all that stands between me and overeating, overworking, overspending, and overdoing the Yuletide.
So, with mantra in mind, I hereby resolve that the only gifts I will give a moment's consideration to this Christmas are those that give the gift of balance. Gifts meant to calm, soothe, enlighten, and rebalance the hormones, health and lives of those I love best in all the world.
Thus follows the "Speak to Me of Balance" Christmas Gift List:
Massage 

–

 a gift certificate for a one-hour massage, or even a 15 minute chair massage 2x a week, which studies tell us can calm the sympathetic nervous system and lower stress levels significantly.
Yoga 

– 

the essentials of stretching and deep breathing release tension, lower stress hormones, and among other things boost lung function. More oxygen translates to relaxed muscles with fewer aches and pains, better mood and memory. The Bikram version performed in 100+degrees is a form of "hot" yoga that has a legion of followers, my own husband among them!

Gift certificate to Aveda Hair Salons 

–

among the rare few I've found that use natural plant-based hair dyes and products sans ammonia and harmful chemicals. It's about time! We need to give ourselves a break from the xenotoxins in most chemical hair dyes that turn into bad estrogens and throw our hormones out-of-whack.
Arbonne's Instant Lift Gel 

–

(my secret weapon for looking the best I can for my age) and any of the RE9 line of anti-aging, plant-based, toxin-free, cosmetic and skin care products from this visionary Swiss company. Find a consultant in your town.
A year's membership to the Sierra Club 

–

 starts at only $15 and can be found at www.sierraclub.org. Check out their awesome range of outings: day hikes, peak scrambles, bicycling, cross-country skiing, bird-watching, conservation-walks, or forays into the remaining natural areas of our major cities. What better way to stop living in your head and start living in your body!!
Walking gear 

– 

warm hat with ear-flaps and a must-have brim (for those of us who wear glasses), waterproof pants and anorak, so there is no excuse not to exercise in the great outdoors no matter what the weather. A growing disconnect with the natural environment has been linked in a host of studies to obesity and related "diseases of indoor living."
Dance classes – my daughter Jess just told me that she and her husband recently signed up for lessons after realizing how out of step they were on the dance floor at a friend's wedding…from the waltz to the rumba they are now learning to move in synchrony. Just like hormones in balance! www.arthurmurray.com
Meditation – this could be an Intro class, how-to book, resource list of local groups, sitting cushion, tapes, retreat, etc. Anything to inspire someone to begin a regular practice.  Once begun it's free, can be done anywhere, anytime, and is a skill you have for life.
The gift of time to enjoy the best life has to offer, especially at Christmas!  Time to go pick up the kids from school or offer to make lunch for someone 2 days a week. One ZRT employee has been bringing in meals 2 days a week for a coworker (who is attending night school) so they can eat nutritiously.
Hopefully this growing hodgepodge of favorites will speak to YOU of balance or help spark your own ideas. Here's to a wonderful, balanced holiday season!
Related Resources