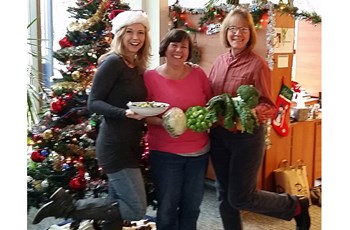 During this holiday season, the docs at ZRT Laboratory have whipped up some healthy hormone eating options from their favorite recipes. Try out these scrumptious dishes for your family and tell us what you think!
The Cruciferous Connection to Hormone Balance
Before you dig in, you may be tempted to ask how it is that the humble Brussels sprout et al., are empowered with such healthy purpose?
The answer boils down to biochemistry: when crucifers are added to one's daily diet, their active ingredients (indole-3-carbinol (I3C) and 3,3'-diindolylmethane, or DIM), favorably affect estrogen metabolism – which in turn may reduce the incidence of certain cancers. DIM for example works its magic by multiplying the chance for estrogens to be broken down into "good" vs. "bad" metabolites.
Most of the benefits attributed to estrogen – protection of our breasts, skin, bones, blood vessels, heart and brain against the diseases of aging – are known to come from these good estrogens.
Most undesirable effects such as heavy periods, weight gain, mood swings, and risks for breast cancer come from a buildup of the bad metabolites of estrogen. All the more reason to deck the halls with boughs of broccoli and eat brassicas this holiday and every day of the year!
Holiday Brussel Sprouts - Lindsay Nyre,
Lab & Clinical Consultants Coordinator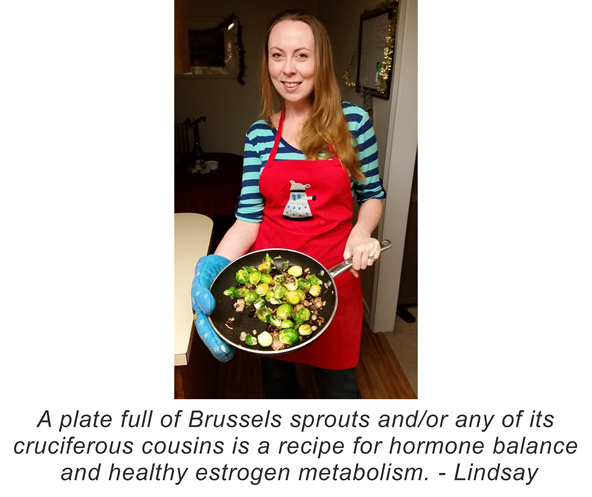 You will need:
2 tbsp olive oil
Sprouts, cleaned and cut into halves
½ red onion, chopped
2 cloves garlic, minced
2 rashers bacon, chopped
(that's 2 pieces for us in the USA. Lindsay's originally from the UK!)
¼ cup dried cranberries
Balsamic vinegar
Pinch of cayenne
Salt & pepper to taste
Instructions:
Heat olive oil over medium heat in skillet. Add red onion, garlic and bacon; cook until onions are translucent, about 3 mins.
Add sprouts, cut side down. Turn heat up to medium-high, allow sprouts to brown a little and then stir; cook for around 10 mins before adding dried cranberries.
Season with salt, pepper, and a pinch of cayenne to taste. Drizzle with balsamic vinegar.


Marinated Brocco-lay! - Dr. Allison Smith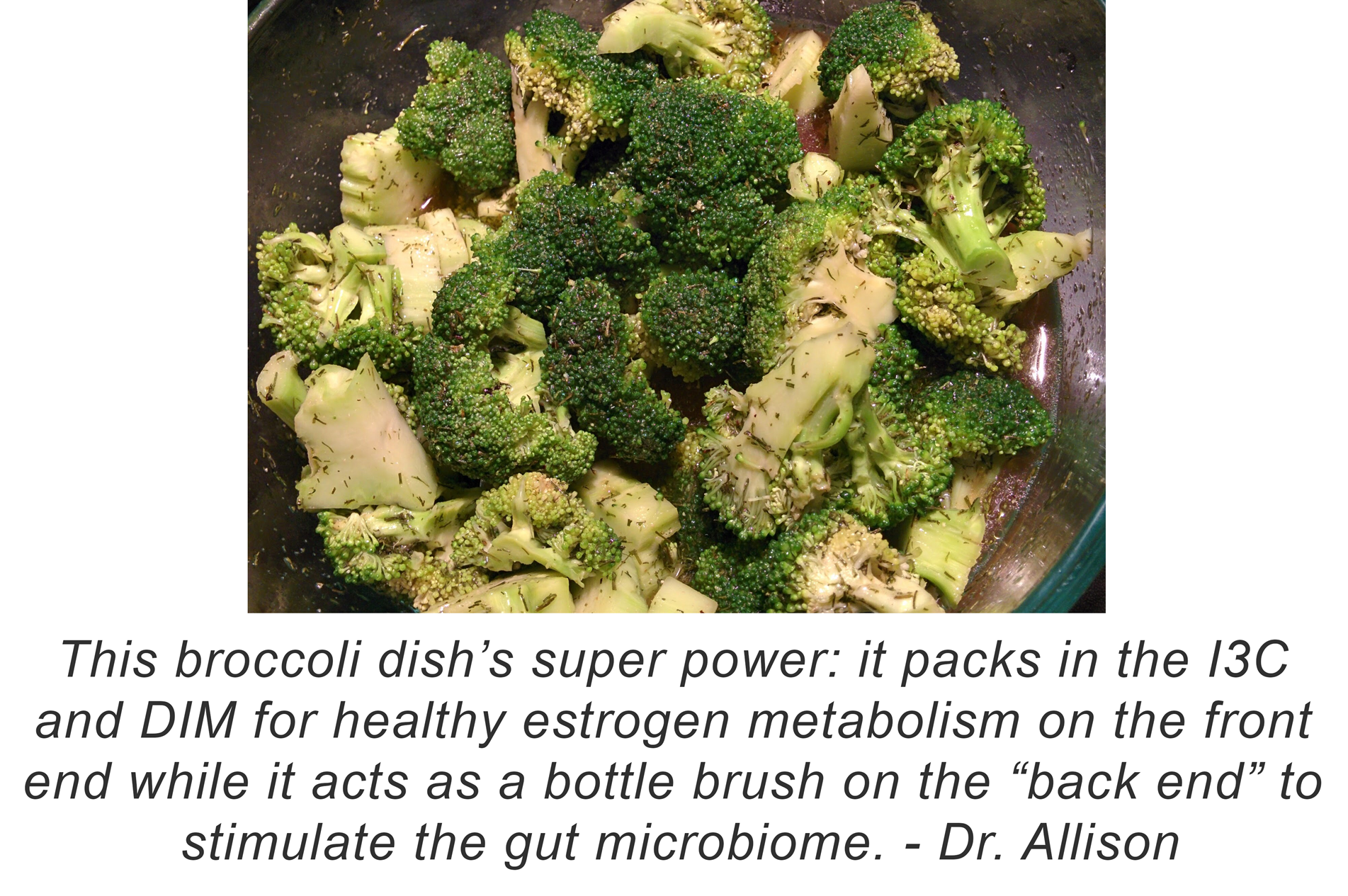 You will need:
1 head broccoli
½ cup white vinegar
½ cup red wine vinegar
½ cup olive oil
1 tbsp dill
1 tbsp sugar
1 tsp pepper
1 tsp salt
1 tsp garlic
Instructions:
Cut broccoli into florets (and I like the stem cut up in there too – crunchy and yummy)
Add everything else to the broccoli in a bowl and mix up
Cover and put in the fridge
Overnight is best but great even after an hour


Cauliflower Mash - Dr. Alison McAllister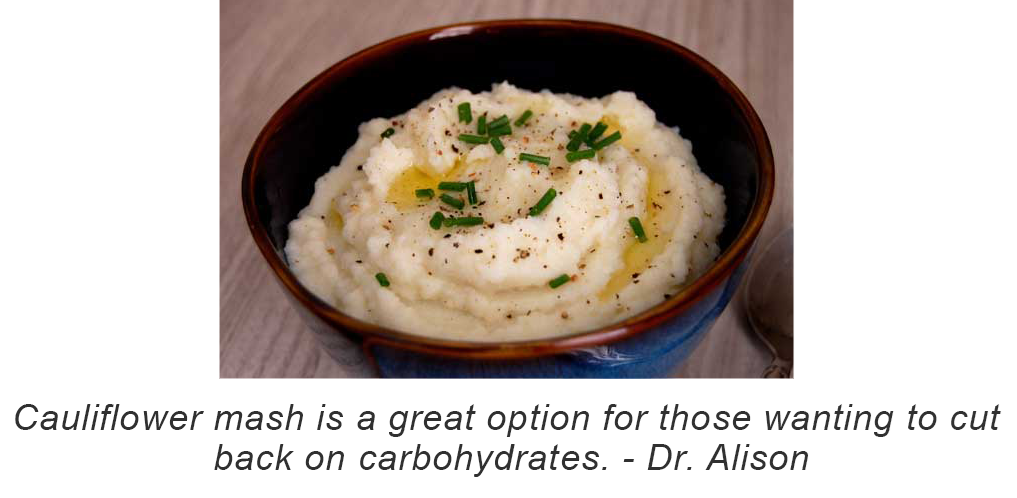 You will need:
1 large head of cauliflower, cut into florets
1/4 cup almond milk
1 tbsp ghee
Head of garlic
Fresh chives, chopped
Salt & pepper to taste
Instructions:
Preheat oven to 400 degrees F. Peel away the outer layers of the garlic bulb, then cut off the very top of the head of garlic to expose the individual garlic cloves. Place in aluminum foil and drizzle with olive oil, then seal the foil around the garlic. Bake for 25-30 minutes, until the cloves are soft. Allow garlic to cool, then squeeze the roasted garlic cloves out of the skin.
Meanwhile, place a couple inches of water in a large pot. Once water is boiling, place steamer insert and then cauliflower florets into the pot and cover. Steam for 12-14 minutes, until completely tender. Drain and return cauliflower to pot.
Add roasted garlic, milk, ghee, and salt to the cauliflower. Using an immersion blender or food processor, combine ingredients until smooth. Top with chives and freshly ground pepper.


Mandarin Saut
é

ed Kale – Dr. Alison McAllister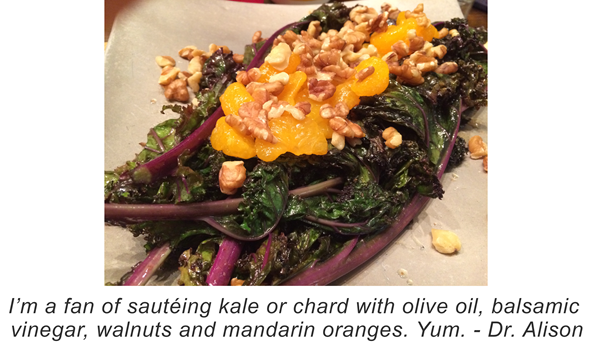 You will need:
1 1/2 pounds of young kale
3 tbsp olive oil or coconut oil
2 tbsp balsamic vinegar
Mandarin oranges
Walnuts
Salt & pepper to taste
Instructions:
Toss kale in olive oil or coconut oil to coat
Heat oil in a large frying pan
Add kale to pan
Sauté until wilted

–

approximately 5-7 minutes
Add the vinegar
Season to taste with salt and pepper
Toss to combine
Top with mandarin orange slices and walnuts
Also great with goat cheese, collard greens, and cranberries!


Bok Choy with Ginger & Garlic - Dr. Sherry LaBeck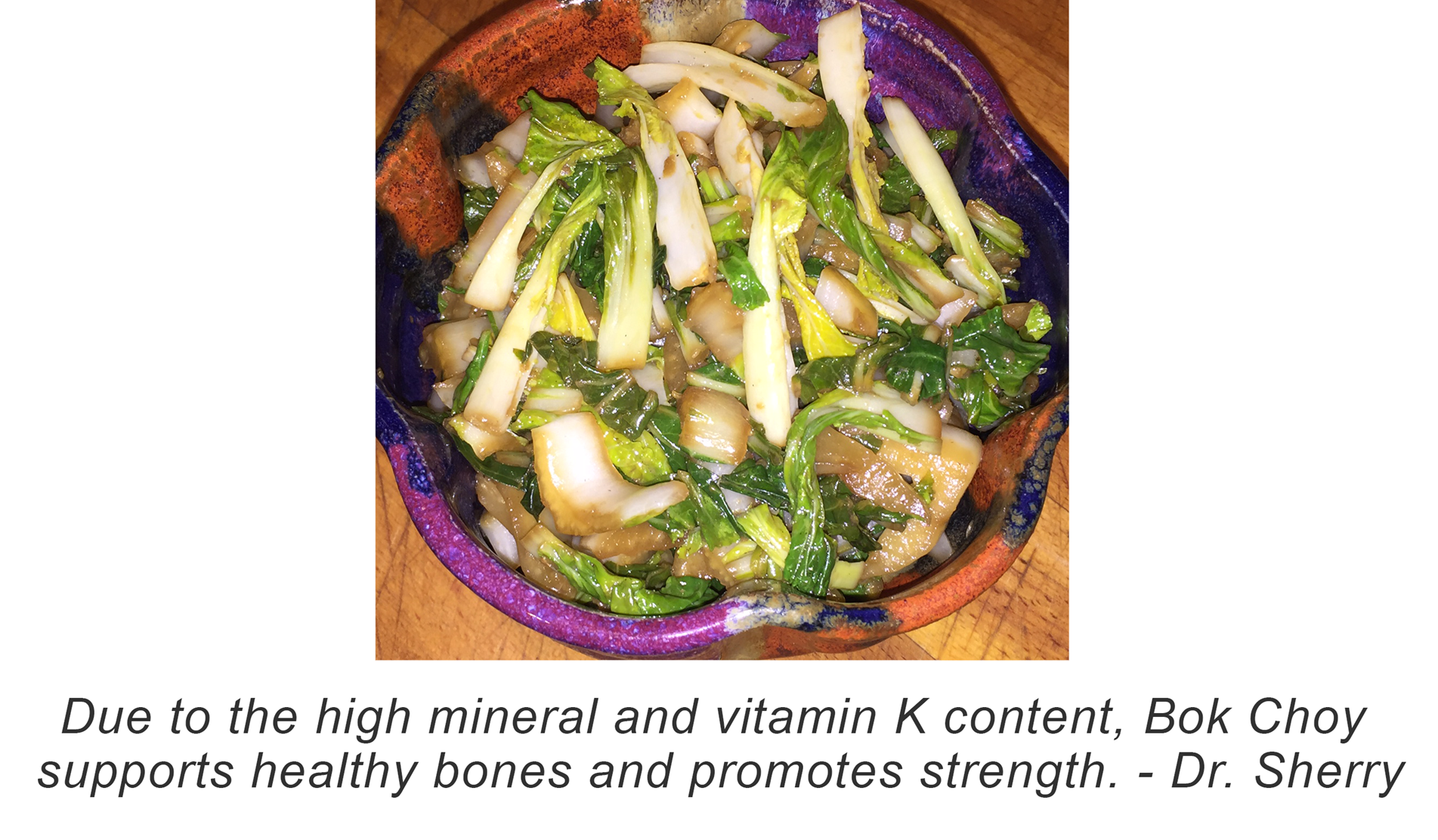 You will need: 
1 tbsp olive oil
1-2 cloves minced garlic
1 tbsp grated fresh ginger
1-2 tbsp tamari soy sauce
3-4 cups bok choy, coarsely chopped
Sesame oil
Salt & pepper to taste
Instructions:
Combine oil, garlic and ginger in skillet
Cook 1 minute
Add bok choy and soy sauce tossing quickly to coat with oil mixture
Cook 3-5 minutes until stalks are crisp-tender and greens are wilted
Season to taste with salt and pepper
Drizzle with sesame oil before serving


Enjoy! From all of us at ZRT Laboratory, we wish you a happy and healthy holiday season!

Dig into more healthy and delicious recipes from the ZRT Docs