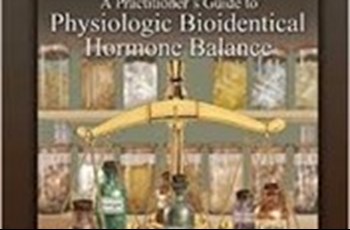 A Practitioners Guide to Physiologic Bioidentical Hormone Balance is that much needed hands-on guidebook you've been needing. In every chapter of this long overdue guide, you're reaping decades of experience from a compounding pharmacist and educator known to many as a 'walking encyclopedia' of best practices in the clinical use of BHRT.
Watch the Webinar: A Practitioner's Guide to Physiologic Hormone Balance
Jim Paoletti, FAARFM, FIACP, has consulted with scores of practitioners and has also lectured internationally and published extensively on all aspects of bioidentical hormone therapy. Now in his first book, he shares his expertise in the art and science of natural hormone balancing.
It is the "how-to" on every page of this first working guidebook to BHRT that makes it so indispensable. A thorough understanding of the complexity of hormones makes Paoletti the perfect guide through the intricacies of hormonal interactions, receptor response, individualized dosing, proper testing and how to convert a patient from conventional hormones to BHRT.
"I felt there was a strong need to provide a knowledge base for practitioners…to help them understand the 'how to' of hormone balance from a physiological approach in order to optimize patient long-term benefits."
The Appendices offer important protocols that practitioners can use to properly assess the need for BHRT, and how to appropriately administer it. Among the highlights:
basic BHRT Protocol

hormone evaluation forms

symptom charts

dosing guidelines

thyroid hormone evaluation

thyroid gradient levels

approaches to autoimmune reactions

iodine testing and supplementation guidelines
A Practitioners Guide to Physiologic Bioidentical Hormone Balance as the name implies is rooted in the principles of physiology, and the conviction that bioidentical therapies in their very form and function, when used appropriately, come closest to achieving balance with few side effects. This not just your ordinary handbook but a brain-trust of knowledge and a lifeline to current and future practitioners of BHRT.
BIO:
Jim Paoletti is an independent clinical consultant for patients and healthcare practitioners. He has over 30 years of experience with bioidentical hormone therapies in clinical practice, both in retail pharmacy and as a consultant and educator. Jim served previously as Director of Provider Education for ZRT Laboratory, and as consultant and Education Director for Professional Compounding Centers of America (PCCA). He is a graduate and former faculty member of the Fellowship of Anti-aging and Functional Medicine. 
Continue the discussion: