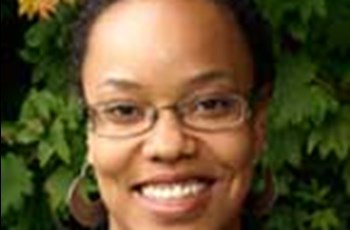 Dr. Kim Tippens, ND, MS, MPH is an integrative medicine researcher and professor with the National College of Natural Medicine in Portland, Oregon. She is an African American naturopathic doctor, a small minority in a profession dominated by white women.
A survey of licensed naturopathic practitioners in two US states reported that 94% of NDs in Washington and 95% in Connecticut identified themselves as white, while 57% and 58% respectively were women. As the main focus of her work is in addressing access to alternative health care options among medically underserved populations in her community in Portland, Oregon, she is keenly aware of the need for more professional diversity to help increase patient engagement.
I visited Dr. Tippens at her office in the Helfgott Research Institute at NCNM, where she is an Assistant Professor in the School of Research and Graduate Studies. She also serves as the Director of Public Health and Community-Partnered Research, and mentors students doing community-based research. 
Following is the interview in which she shared with me some of her current projects and concerns.
Q: Tell me about a clinical research project you are currently doing.
A. Right now we are in the middle of a whole-foods nutrition education study with the Food As Medicine Institute at NCNM.  The study will assess the effect of a 12-week nutrition course on eating behaviors, food choices, and cardiometabolic markers in a prediabetic population. We're very grateful to ZRT laboratory for donating the cardiometabolic testing for this project.  For this study, we are partnering with two local churches: one is in North Portland and one in Banks, Oregon, where community members are engaged in the research.  We're providing a 12-week nutrition education course, including hands-on classes on how to cook healthy food.  Fasting blood spot tests and food frequency questionnaires are done at the start of the study and at 3 months, 6 months, and 12 months later.  Investigators will assess whether helping people to understand and prepare healthier foods will change eating behaviors and lower their risks for diabetes and heart disease.
Q: You are trained in acupuncture – are there some applications for alternative health care approaches such as acupuncture in parts of the community that are underserved?
A: Yes, I'm actually involved in a couple of research proposals that aim to evaluate an established acupuncture program for addiction recovery and assess its impact in an underserved population.  Findings from this work would be directly applicable to the severely low income and homeless populations that we work with in the community, since many of them struggle with addictions.  Group acupuncture is a complementary approach that seems to play an important role in addiction recovery.  I am also interested in models of acupuncture delivery that are accessible to low-income and uninsured populations.  The community acupuncture model is one that I have been studying, especially regarding its impact on pain management for medically underserved populations. 
Q: What are the main issues that you see regarding access to alternative medicine in the underserved parts of the community?
A: The main problem is access to complementary and alternative medicine services for people without medical insurance or with low incomes.  Most of my activities in the community are aimed at increasing awareness of affordable options for holistic health care.  Fortunately, there are multiple complementary and integrative medicine teaching institutions in the Portland area that offer low-cost health care.  
Q: What kind of things are happening in the community to increase awareness of alternative medicine approaches?
A: We have partnered with a local community acupuncture clinic to design a project focused on treatment of chronic pain, where we will engage with other community organizations and conduct qualitative research on the utility of this treatment.  We also have, right here at NCNM in Portland, the Food As Medicine Institute, where we offer to the public healthy cooking classes based on whole grains and a plant-based diet.  That helps to increase awareness of lifestyle choices as a key part of improving individual health.
Q: As this is Black History Month, how do you feel about the under-representation of African Americans in the naturopathic community?
A: Most of my work is around access to health care and the quality of care. In order for a health care model to be considered accessible, the care delivered has to be affordable, close by, culturally appropriate, and of high quality.  As our profession continues to engage communities and promote awareness of local naturopathic health care options, I believe that more people will embrace natural medicine and its principles of lifestyle adjustment, for example proper nutrition and stress reduction, and centuries-old herbal remedies.  Holistic solutions can have huge benefits in health care issues that are known to particularly affect the African American population such as obesity, diabetes, and some cancers.  I would love to see more African American representation in my profession.


Reference
Boon HS, Cherkin DC, Erro J, et al. Practice patterns of naturopathic physicians: results from a random survey of licensed practitioners in two US States. BMC Complement Altern Med. 2004;4:14.
Related Resources