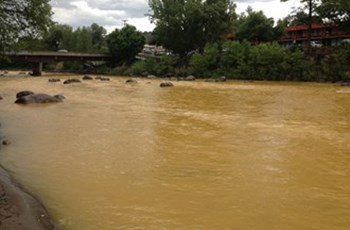 On August 5, 2015 the Environmental Protection Agency (EPA) accidentally breached a tunnel holding liquid waste as part of the cleanup of the Gold King Mine in Colorado.
This breach resulted in the release of 3 million gallons of toxic waste into Colorado's Animas River. The waste stained the river yellow and continued to travel downstream into the San Juan River. The Animas and San Juan Rivers are a source of drinking and irrigation water, are heavily used for recreation, and are home to a wide variety of wildlife. 
Water samples were tested on August 5 at multiple locations around the spill and results were made public by the EPA (Table 1).1 One of the test locations was Cement Creek Bridge in Silverton, Colorado, which crosses over Cement Creek, the location of the spill. Cement Creek travels a short distance before it merges with the Animas River. Seen below are the reported water sample values and maximum contaminant levels (MCL) for arsenic, cadmium, mercury and lead. Maximum contaminant levels are set by the EPA and represent the point at which toxic metals render the water no longer safe for humans to drink.2


The Animas and San Juan Rivers provide drinking and irrigation water for many communities. Fortunately backup water sources unconnected to the river were used once the spill was reported. As time goes on, the constant flows of the Animas and San Juan rivers will eventually dilute toxic metal concentrations to much lower levels. Unfortunately, even at much lower levels these toxins will still pose a threat to humans and wildlife, as they tend to accumulate in the river sediment and are released during high water events. Currently, the EPA is assessing at what point the rivers can be opened back up for both drinking and recreation.
Arsenic, lead, mercury and cadmium are considered to be the 1st, 2nd, 3rd, and 7th most hazardous substances according to the Agency for Toxic Substances and Disease Registry's (ATSDR) Priority List of Hazardous Substances.3 It is not possible to know if you are being exposed to these toxic metals because they are colorless and odorless in water, plants, and animals that are on the human food chain. Detecting arsenic, cadmium, mercury, and lead in water is not possible without complex analytical equipment. These toxic metals will accumulate in crops irrigated with contaminated water and in fish residing in the river, and enter into aquifers that supply water for both irrigation and drinking.
While river and well water can be tested to determine if it is safe to drink, the only way to know what humans are actually being exposed to is by testing biological specimens such as urine and blood. Lead and organic mercury are commonly tested using whole blood, while arsenic, cadmium, and inorganic mercury are commonly tested using urine.
ZRT has developed a dried urine test that is ideal for assessing individual exposure to arsenic and mercury that may have been consumed in water and in foods grown in contaminated water such as the recent Colorado Mine spill. (Coming in September, ZRT will be adding cadmium to this profile.) We are also currently working on tests (available 2016) that measure lead, cadmium, and mercury in dried blood spot derived from a simple finger prick.  
Overexposure to these toxic heavy metals is associated with myriad health issues including cardiovascular disease, cancer, diabetes, and premature aging.  Knowing your body burden of these toxic heavy metals through urine testing or blood testing is key to avoiding them in contaminated water and food and preventing health issues associated with overexposure. 

Related Resources

References
[1] United States Environmental Protection Agency.  Emergency Response to August 2015 Release from Gold King Mine.  Available at: http://www2.epa.gov/goldkingmine
[2] United States Environmental Protection Agency.  Drinking Water Contaminants. Available at: http://water.epa.gov/drink/contaminants/index.cfm#List 
[3] Agency for Toxic Substances & Disease Registry.  Priority List of Hazardous Substances. Available at:  http://www.atsdr.cdc.gov/SPL/index.html