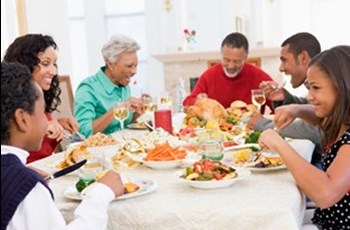 When you think of comfort foods, what comes to mind? 
For me, it's all about the firsts of the season. Sitting on the floor by the fireplace with its warmth permeating the room, it's that first sip of eggnog – yes, the real stuff made from scratch. It's the time when my house fills with the sweetness of a baking apple pie for the first time in many months. It's also about the unending damp drizzle of Pacific Northwest winters and the haven of dry comfort on the inside enveloping my family and friends with a sense of belonging, connection and gratitude.
The Clinical Consultants group at ZRT hopes you enjoy these comfort food recipes and wishes you a Happy New Year!
Comfort food is as much about the indulgence and richness of the bite, overwhelming yet satisfying the senses, as it is about with whom you chose to share the food. For my family, there are only a few rules that apply to comfort food - it has to be kid and adult friendly alike, and it has to be simple to prepare with room for spontaneity and creativity. This way adults and children can enjoy the food together and every creation comes out with a slight twist and no two are ever the same.
Homemade Mac'n Cheese
The ultimate comfort food for my family is homemade mac'n cheese. I experiment with various kinds of cheeses for extra creamy decadence, spices for the element of surprise, and am prepared to try different ones next time around. Pair it with wine, green salad or baked squash for adults and homemade apple sauce for the kiddos. There are only so many firsts each season holds, allow yourself to give in to your senses and covet those moments. – Dr. Kate Placzek
Ingredients:
1 lb elbow macaroni, cavatappi, or any other pasta curls that will hold on to the sauce
1 quart organic whole milk
6 tbsp butter
½ cup unbleached flour
6 oz gruyère cheese, grated
4-6 oz smoked gouda cheese, grated
4 oz mozzarella cheese, grated
6 oz extra sharp cheddar cheese, grated
½ - 1 tsp ground nutmeg

¾ cup Panko breadcrumbs

½ cup grated parmesan
1 tbsp Italian seasoning
Sea salt to taste
Optional: for an extra kick, consider adding cayenne pepper
Instructions:
Preheat oven to 375 F. 

Boil water, add the macaroni and cook according to the instructions to al dente. Drain well.

Meanwhile, heat the milk in a small saucepan, but don't boil it. Melt 6 tbsp of butter in a large (4 qt.) pot and add the flour. Cook over low heat for 3-4 minutes, stirring with a whisk. While whisking, add the hot milk and cook for a minute or two more, until thickened and smooth. Add pepper, salt, nutmeg, and Italian seasoning (and cayenne if using). Off the heat, add the grated cheeses. Add the cooked macaroni and stir well. Pour into a 3 quart baking dish.

Combine Panko bread crumbs and parmesan, sprinkle on top. Bake 30-35 minutes, or until the sauce is bubbly and macaroni is browned on the top.
Delicious Roasted Brussels Sprouts Medley
I'm someone who enjoys balance in life. This dish is a little sweet and a little savory – a little healthy and a little indulgent. It's converted at least two people I know into Brussels sprout lovers. Just as important, it's a lovely dish to look at with its reds, browns, golds and greens so it packs up and presents beautifully at parties and dinners. I hope you enjoy it as much as our family has! – Dr. Allison Smith
Roasted Brussels Sprouts:
3 cups Brussels sprouts, ends trimmed, yellow leaves removed, and cut in half
2 tbsp olive oil
Salt, to taste
Toss together in a bowl then spread out in a single layer with cut sides down on a foil covered, EVOO greased cookie sheet.
Roasted Butternut Squash:
1 ½ lb butternut squash, peeled, seeded, and cubed into 1-inch cubes (Yields about 4 cups of uncooked cubed butternut squash)
1 tbsp olive oil
2 tbsp maple syrup
1 tsp ground cinnamon
Toss together in a separate bowl then spread out in a single layer on a foil covered, EVOO greased cookie sheet.
Pecans:
1

tbsp

packed brown sugar
2

tbsp

maple syrup
2

tbsp

organic butter
2 cups pecan halves
Follow directions below to candy pecans OR skip this step and buy some already candied pecans.
Other Ingredients:
Instructions:
On 2 separate cookie sheets side by side in a 400 F oven, roast Brussels sprouts and butternut squash for 20-25 minutes and turn them half-way through cooking so they don't get too brown on one side.


For the pecans: While those are cooking, heat a 12" skillet and melt the butter, then add brown sugar and maple syrup. Stir constantly until mixed and bubbly then add pecans. Cook for 2-3 minutes and keep stirring until coated. Remove from heat.


When the Brussels sprouts and squash are done, pull them out and let them cool.  Drop the temp in the oven to 350. Spread the pecans on a parchment-covered cookie sheet and bake for 8 minutes or so. Cool for 20 minutes.


In a large serving bowl, incorporate the Brussels sprouts, the butternut squash cubes, the pecans and 1 cup of dried cranberries. Enjoy!!
Roasted Kabocha Squash, Carrot & Ginger Soup With Lamb Meatballs
Is there anything better than a warm cup of soup, but one made of a vegetable makes it even better. This is your typical yummy squash soup, but with a bit of an added kick with limes and cilantro. Although the recipe calls for lamb meatballs, leftovers were eaten with spicy sausage without complaints. I am lucky enough to have an instant pot, so I was able to cook the squash in 17 min shaving more time off of this awesome recipe. – Dr. Alison McAllister
Soup:
2 tbsp coconut oil, melted
1 medium kabocha squash, seeded and sliced into chunks
5 medium orange carrots, quartered
1 yellow onion, peeled and chopped
3 cloves of garlic, peeled and left whole
Salt & pepper (to taste)
2 tsp ground ginger
1 tsp ground cloves
4 cups chicken broth (learn how to make your own here)
1 13.5 oz can of full fat coconut milk
1 inch ginger root, peeled and grated
Meatballs:
1 lb grass fed ground lamb
1 tsp granulated garlic
1/2 tsp ground ginger
1/2 tsp oregano flakes
1/2 tsp cinnamon
1/2 tsp salt
1/4 tsp pepper
1 tbsp coconut oil (for frying)
Garnish:
Fresh cilantro
Fresh cut limes
Instructions:
Preheat your oven to 375 degrees F.


Line two baking sheets with tin foil and set aside. Cut up your carrots, onions, and seeded kabocha squash into large chunks. Toss with melted coconut oil, salt, pepper, ginger, and cloves. Make sure all of the veggies are coasted evenly. Lay out the veggies onto the baking sheets along with the whole cloves or garlic and allow to roast in the oven for 45-60 minutes or until the veggies are fork tender. You should be able to scoop the squash away from the skin easily. Once the veggies are done take them out and allow them to cool until they are no longer too hot to handle with your hands.


Add the carrots, onions and garlic to a heavy bottomed soup pot. Scoop out the meat of the kabocha squash, discarding the skins. Add the scooped out cooked flesh of the squash to the soup pot with the other roasted veggies. Add the chicken broth, coconut milk and freshly grated ginger to the pot with the veggies. Allow to simmer over a medium heat for 20 minutes or so in order to allow the flavors to marry.


While the soup is simmering, start on your lamb meatballs. Add the ground lamb and spices to a bowl and combine well with clean hands. Once the lamb and spices are well combined, portion the lamb into 12 equal portions and roll them into small meatballs. Place a pan on the stove and heat a tbsp of coconut oil over medium heat. Once the oil is hot, add the meatballs to the pan. Allow them to cook, rotating every couple of minutes in order to cook them fully.


Once your soup has simmered for 20 minutes, remove it from the heat and using an immersion blender, blend the soup until it is completely smooth and creamy.


After the meatballs are cooked through, you are ready to serve! Fill a bowl with soup, add a couple of meatballs to your bowl of soup and garnish with cilantro and the juice of half a lime (trust me on the lime juice, it's amazing). Enjoy!
Carrot and Parsnips Mash
It's a simple but bright and colorful dish, as easy to make and as comforting as mashed potatoes but a little more unusual. Particularly good with poultry or roast beef.
– Lindsay Nyre.
Ingredients:
1lb carrots, peeled and chopped
1lb parsnips, peeled and chopped
Half stick of butter
3 tbsp heavy whipping cream
Handful chopped fresh parsley
Salt & pepper to taste
Instructions:
Boil carrots and parsnips for 30 mins or until soft and easily pierced with a fork

Mash with cream and butter, adding half of parsley, salt & pepper to taste

Sprinkle remaining parsley on top
Original Kentucky Whiskey Cake
On a different note of comfort…a recipe for the Original Kentucky Whiskey Cake will make a special holiday treat.  Although the recipe is chock-full of fruit, it's no ordinary fruit cake.  The sweet, buttery denseness of moist cake is combined with the distinctive, earthy sweetness of cherries and dates infused with bourbon whiskey. Pecans give a nutty flavor and crunchy texture to this delightful, comfort treat. Enjoy! – Dr. Sherry LaBeck
Ingredients:
1 lb candied cherries, cut in half (I substitute fresh or frozen cherries for the candied variety)
½ lb dates or raisins
1 pint Kentucky Bourbon
1 ½  cups butter, softened
2 cups white sugar
1 cup brown sugar                          
6 egg yolks, beaten
5 cups sifted flour
1 lb shelled pecans
2 tsp nutmeg
1 tsp baking powder
6 egg whites, stiffly beaten
Instructions:
Soak cherries and dates/raisins in bourbon overnight.


Cream butter and sugar until fluffy, add egg yolks, beat well.


Add soaked fruit and the rest of the liquid.


Mix pecans with ½ cup of flour.


Add the rest of the flour, nutmeg and baking powder to mixture. 


Fold in egg whites and floured pecans.  


Bake in a large greased tube pan lined with greased paper for 3-4 hours in a slow oven (250-275 F). 


When cool, stuff center hole with cheese cloth soaked in bourbon and wrap in heavy waxed paper. 


Place in a tightly covered container and refrigerate (freezes well).


More ZRT Blogs