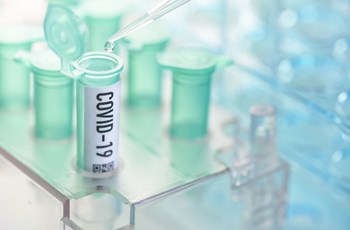 If there is anything the United States is lacking in the war against the 2019 novel coronavirus (SARS-CoV-2) is the mass testing required to detect the virus in those with suspected cases and in asymptomatic individuals. In February the Department of Health and Human Services declared a public health emergency, which allowed for "emergency use of in vitro diagnostics for detection and/or diagnosis of the novel coronavirus (2019-nCoV)." The goal was to speed up new test development and commercialization to increase testing capability in the United States. It wasn't clear what laboratories had the green light to commercialize a COVID-19 test and whether they would need FDA review and approval before release.
The Rush to Develop COVID-19 Testing
Many private, public, and reference laboratories rushed to develop, validate and commercialize testing after learning of the U.S. Food and Drug Administration (FDA)'s emergency guidance. This process normally takes months or years, but the FDA's emergency use of diagnostics allowed for expedited validations and commercialization. Laboratories are focusing on RT-PCR technology (reverse transcription polymerase chain reaction), which is used and recommended by the Centers for Disease Control and Prevention (CDC), and serology testing, which looks at antibodies produced in response to infection using serum, plasma or whole blood. The RT-PCR test shows current infections while the serology testing is only useful for result confirmation or confirming exposure post-infection.
At-Home vs At-Home Collection vs Standard Laboratory vs Point-Of-Care Testing
At-Home Testing – A device that is FDA approved and purchased over the counter without doctor approval. Sample is collected at home and applied to the testing device. Results take minutes and are qualitative. The FDA will likely never approve these for COVID-19 testing as they don't want people self-diagnosing or misinterpreting results. An example is a home pregnancy test. Be aware of fraudulent devices and claims. You can check the FDA registry for approved devices here.
At-Home Collection – After doctor approval, a collection kit and return shipping material is sent to the patient for sample collection at home. The sample is mailed back to a laboratory for analysis. Results take >3 days from time of collection. Example: https://www.zrtlab.com/sample-types/dried-urine/.
Standard Laboratory Testing – A medical professional collects a sample and sends it to a laboratory for testing. Results typically take >1 day from time of collection. Example: https://www.labcorp.com/tests/139900/2019-novel-coronavirus-covid-19-naa.
Point-Of-Care Testing – An FDA approved test that can be run in a doctor's office or hospital with minimal training. Results can be available in minutes. Example: https://www.cepheid.com/coronavirus.
Laboratories that develop and commercialize at-home collections for testing, otherwise called laboratory developed tests (LDTs), are considered high-complexity laboratories that require CLIA (Clinical Laboratory Improvement Amendments) certification to operate. CLIA is overseen by the FDA, Center for Medicaid Services (CMS), and the Centers for Disease Control (CDC). The FDA has a final say on what LDTs can be brought to market and can force a laboratory to cease operation if they believe testing is fraudulent or misleading. The most difficult approval is for FDA point-of-care testing because the test manufacturer must show that someone with limited knowledge of the test can produce accurate results on a fool-proof system. ZRT Laboratory is an example of a high-complexity laboratory with CLIA certification that offers home collection options for saliva, finger-stick dried blood spots, and dried urine that are sent to ZRT and assayed by LDTs developed under FDA/CLIA guidelines.
Current Problems with At-Home Collection COVID-19 Testing
At the moment there are a couple of problems with at-home collection COVID-19 testing.
Nasopharyngeal/oropharyngeal swabs used for the RT-PCR test require them to be deeply inserted as shown here. This is very uncomfortable and should only be attempted by a medical professional. The sample may not be properly collected if not inserted deeply enough or long enough. This should not be attempted by an individual at home.
Testing supplies are in high demand right now, and all resources should be directed toward hospitals and screening centers that are running low on supplies.
A patient showing COVID-19 symptoms will be the one removing kit contents, taking the test, placing specimens in a shipping container or pack, and mailing everything back to the laboratory. This potentially exposes mail carriers to the virus. There are strict guidelines for shipping COVID-19 specimens that the average person may not understand.
Laboratory developed tests rely on self-validation to prove they are accurate and reliable. There may be false negative results that go undetected and influence personal/medical decisions. This is very difficult to control if laboratories aren't running standardized CDC/FDA approved testing. Rapid test development and validation only increases the chances of inaccurate results and hidden assay problems.
Testing for profit. Unfortunately, many laboratories will be looking to profit from panic. Those claiming to run testing "at-cost" should break down the costs of all parts of testing including kit supplies, shipping, assay prices, and laboratory operation.
FDA Halts At-Home Testing for COVID-19
The FDA recently halted all at-home collections for COVID-19 testing. Without FDA approval, which likely will take months for current laboratory developed tests, do not expect at-home collection for COVID-19 testing until at least May/June. A new type of collection (saliva, nasal swab, dried blood spot, feces) will need to be validated and approved to replace nasopharyngeal/oropharyngeal swabs and conventional blood draws. ZRT Laboratory is investigating the possibility of using dried blood spots in concert with serology antibody testing for COVID-19, but we will need to continuously monitor the FDA's position on at-home collections before moving forward with test development, validation, and commercialization.