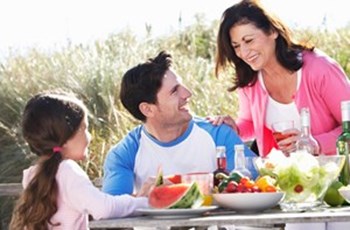 Now that the summertime bounty of fresh fruits and vegetables is in full swing, our clinicians at ZRT Laboratory have whipped up some super-healthy eating options for you from their personal recipes. I'm already hooked on the honey quinoa salad but it's a toss-up between that and the other scrumptious, easy to make dishes our Docs share with you here. I could live on these for the rest of the summer, they're so darn delicious and simple to make.
The Healthy Eating Connection to Hormone Balance
Speaking of living on these fabulous fruits of the earth, it strikes me that the recipes our Docs have chosen to share are all meatless, so before we begin, let's take a moment to consider the benefits of the plant-based diet.
A 2013 Nutritional Update for Physicians "Nutritional Update for Physicians: Plant-Based Diets." The Permanente Journal (Kaiser Permanente). 2013 Spring; 17(2):61-66 states that "Healthy eating may best be achieved with a diet that encourages whole, plant-based foods and discourages meats, dairy products, and eggs as well as all refined and processed foods." The paper goes on to say that research shows plant-based diets to be cost-effective, low-risk interventions that may lower body mass index, blood pressure, cholesterol levels and risks for diabetes and heart disease. Another major benefit mentioned for those who decide to start a plant-based diet is the possibility of reducing the number of medications taken to treat a variety of chronic health conditions.
Pretty impressive! Now that we are fully informed about the awesome health benefits of the following recipes, let's dig in!
Alton Brown's Roasted Edamame Salad
"Here in the Pacific Northwest, summer evenings are magnificent. The sun does not set forever; the air does not get too hot. My family and friends sit around a dinner table outside, surrounded by an abundance of greenery. That moment of sharing brings us together. Stories, music, wine, and food. Food that is simple, delicious, pleasing to the taste buds and to the eye.  The roasted edamame salad is one that makes me close my eyes and savor the bite. Earthy edamame, fruity corn, sweet tomatoes, bright vinegar and basil…  In that bite, the element of surprise is the harmony of flavors, the richness of simplicity. In that moment time stands still. My heart is full." – Kate Placzek, PhD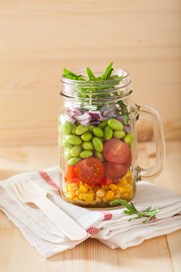 You will need:
2 cups shelled edamame 

1/2 cup fresh corn kernels (about 2 ears)

1/4 cup finely diced scallion or red onion

1 clove garlic minced

1 tbsp olive oil

Pink Himalayan salt to taste

Freshly ground black pepper to taste

1 cup chopped cherry tomatoes

1/4 cup fresh basil leaves, cut into small ribbons

1 tbsp red wine vinegar  
Instructions:
Preheat the oven to 400 degrees F.
Place the edamame, corn, scallion, garlic, olive oil, salt and pepper into a 13 by 9 metal pan and stir to combine.
Place on the middle rack of the oven and roast for 10 to 15 minutes, just until the edamame begins to brown.
Remove from the oven and place in the refrigerator until completely cool, approximately 30 minutes.
Add the tomatoes, basil and vinegar to the edamame mixture and toss to combine.
Taste and adjust seasoning, as desired.
Serve chilled or at room temperature.
Black Bean Salad
"A rainbow of veggies in a bowl with avocado – what else do you need? Great for potlucks and the leftovers are really versatile. Plus, I can make it the day before which is key for a mom on the go." – Alison McAllister, N.D.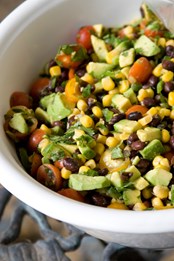 You will need:
2 cans (15 oz.)  black beans rinsed and drained
1 can (15 oz.) whole kernel corn drained (can reverse proportions with the back beans if you prefer more corn than beans)
1 green bell pepper, chopped
1 red bell pepper, chopped
1 orange or yellow bell pepper, chopped
2 avocados – peeled, pitted and diced
1 cup chopped fresh cilantro
1 lime, juiced (or 2 tbsp of juice)
½ cup Italian salad dressing
½ teaspoon garlic salt
1 jalapeno pepper, seeded and minced (optional – if using jalapenos best to prepare the night before to mellow the flavors)
Cherry tomatoes
Instructions:
Mix all the above ingredients together in one large bowl.
I have added onions in the past, used diced whole tomatoes, added broccoli and cauliflower.
This is great with chips, but is also a great side dish with chicken or sausages and I have also used it as a topping for green salads.
Honey Lime Quinoa Salad
"Living in Oregon with the abundant variety of fresh fruit, how can I not be drawn to this recipe. Honey Lime Quinoa Fruit Salad intermingles the summery whisper of berries and tropical tang of mango with the nuttiness of quinoa. Dressing the berries with the sweet tartness of honey and lime compliments the fruit. And the tri-color quinoa not only incorporates a yummy texture but intensifies the colorful fruit combination. Finally, garnishing with basil leaves lends a "pop" of eye-catching green while adding to all the other complex flavors." – Sherry LaBeck, N.D.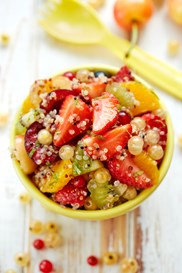 You will need:
1 cup uncooked quinoa (I used tricolor)
1½ cups strawberries, sliced
1 cup blackberries
1 cup blueberries
1 mango, diced
Honey Lime Glaze:

¼ cup honey
2 tablespoons lime juice
1 tablespoon chopped basil for garnish
Instructions:
Rinse and prepare the quinoa according to package.
Let quinoa cool to room temperature. 
In a large bowl, combine quinoa, strawberries, blueberries, and mango. 
To make the glaze: In a small bowl combine the honey and lime juice. Drizzle over the fruit salad and toss to coat.
Garnish with fresh basil.
Grilled Corn Fiesta
"This is one of those great summer recipes that offer a low degree of difficulty and a high degree of "wow!!" Add this one to your repertoire and get creative adding your own twist. I've added diced crunchy fresh jalapenos and am thinking of seeing what a little basil would do. Have fun!" – Allison B. Smith, N.D.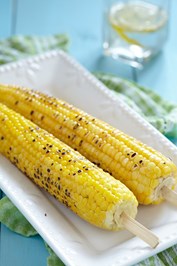 You will need:
4 shucked and rinsed corn on the cobs
2 tbsp salted Butter
¼ cup shredded pepper jack cheese
½ cup crumbled feta cheese
Optional: chives or cilantro
Instructions:
On a high heat grill, cook corn on the cob for about 20 minutes turning and buttering frequently.
Once corn is soft, remove from grill and let cool for a few minutes.
Use a knife to cut the corn off the cob and collect the corn in a serving bowl.
While it's still warm, incorporate the pepper jack cheese and the crumbled feta. This is where you would add your chives or chopped cilantro.
 
We hope you enjoy these dishes as you're soaking up Vitamin D!

Dig into more healthy and delicious recipes from the ZRT Docs