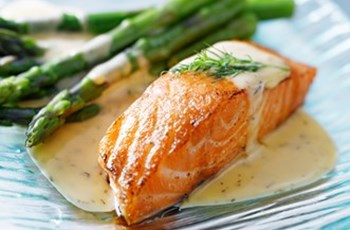 If you need one more recipe idea to put the finishing touches on your special valentine's dinner celebration, or just want a few extra healthy recipes to try, the ZRT marketing team has put together a short list of options that will make your loved one's heart happy.
Ingredients:
16 oz of sparkling water

16 oz pure pomegranate juice (no sugar added)
1 lime
Pomegranate seeds and lime wedges for garnish
Ice cubes
2 glasses
Instructions:
Put a few ice cubes in each glass. Then add 8oz of pomegranate juice. Pour 8oz of sparkling water over the juice, then squeeze a lime wedge over the top and stir. Garnish with pomegranate seeds and lime wedges. Serve.
Ingredients:
Instructions:
Preheat oven to 350°F. Place mushrooms on a baking sheet. Cut up 2 of the mushrooms into diced pieces. In a medium skillet add oil, onion, garlic, diced mushrooms. Saute until tender, about 8-10 minutes. Add spinach, balsamic vinegar and black pepper. Saute until wilted. Remove from heat and add the feta cheese if you'd like. Stuff the mushrooms with the mixture, placing on a baking sheet. Cook for 25-30 minutes. Enjoy!
Broiled Salmon for Two
Ingredients:
2 (6oz each) salmon fillets
2 TB non-dairy buttery spread, melted
1/2 clove garlic, minced
1 1/2 TB Olive Oil
1 TB lemon juice
1/2 tsp ground black pepper
1 tsp garlic salt
2 TB fresh dill, chopped
Optional: 1 TB Worcestershire sauce and 1/8 cup white wine
Creamy Greek Yogurt Dill Sauce:
1 (6 oz) container non-fat Greek yogurt
1 TB fresh dill, chopped
1 TB lemon juice
1 tsp grated lemon zest
1/8 tsp ground black pepper
Instructions: 
Set oven rack about 6 inches from the heat source and preheat broiler. Line a pan with aluminum foil and spray with nonstick cooking spray. In a small bowl, mix together: butter spread, garlic, lemon juice, black pepper, and garlic salt and optional ingredients. Place salmon skin side down on prepared pan. Rub with olive oil and broil in oven for 3 minutes. Spoon 1/3 of butter sauce onto salmon, sprinkle with evenly with 2 tablespoons of dill and broil for an additional 3 minutes. Turn pan and spoon rest of butter sauce onto salmon, broil until salmon flakes easily with fork. About 3 additional minutes.
To make the dill sauce, combine all ingredients in bowl, chill and serve on prepared broiled salmon.
Roasted Asparagus
Ingredients:
2 lb asparagus, tough ends trimmed and stems peeled
1/4 cup extra-virgin olive oil
2 garlic cloves, minced
Zest of 1 lemon
Salt and freshly ground pepper, to taste
1 lemon, cut into 8 wedges
Instructions:
Position rack in the upper third of an oven and preheat to 450°F. Arrange the asparagus on a baking sheet. In a small bowl, whisk together the olive oil, garlic and lemon zest. Brush the asparagus evenly with the oil, turning spears to coat well, and season with salt and pepper. Arrange lemon wedges around asparagus. Roast until the asparagus is tender and turning golden, 6-8 minutes. Transfer the asparagus to a warmed serving platter and drizzle with the pan juices.
We know this one isn't exactly healthy, but chocolate cake on Valentine's Day is a must!
Ingredients:
9 oz bittersweet or semisweet chocolate
3/4 cup (1 1/2 sticks) butter
1/4 cup olive oil
6 eggs, separated
3/4 cup granulated sugar
1 cup puréed fresh beets or 1 (15-ounce) can, drained and puréed
3/4 cup almond meal (or almond flour)
2 TB powered sugar
Glaze (optional):
4 oz semisweet or bittersweet chocolate
1/4 cup heavy cream
2 TB butter
Instructions:
Preheat oven to 350°F. To prepare cake, combine chocolate, butter and olive oil in a bowl set over simmering water. Stir until chocolate is melted and smooth, then let cool to room temperature. Whisk together egg yolks and granulated sugar until light and well-blended. Add cooled chocolate to egg mixture, whisking well. Stir in the puréed beets and almond meal. With an electric mixer, beat egg whites with powdered sigar until soft peaks form. Fold egg whites into chocolate mixture until just combined. Pour mixture into 6 cups. Bake about 15 minutes. Remove from oven, let cool, and chill. 
To prepare glaze, combine chocolate, cream and butter and microwave on low for 30 seconds. Stir and microwave another 30 seconds or until chocolate is melted. Pour over tops of cakes. Chill until ready to serve. Sprinkle with powdered sugar.
More ZRT Recipes