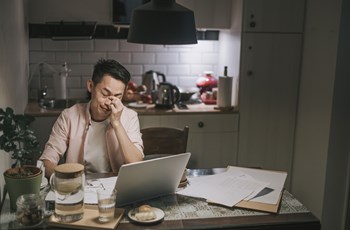 The COVID-19 pandemic has only magnified what we already know: Working in health care can be stressful. A survey conducted by Mental Health America between June-September 2020 of 1,119 health care workers found that 93% were experiencing stress in addition to anxiety, frustration, exhaustion, burnout, and feeling overwhelmed. (1)
Why Is Self-Care So Hard?
Without a doubt, a large part of taking care of yourself is managing your stress levels. People attracted to the world of health care are often empathetic and caregivers by nature. Providing care can be rewarding but at the same time it can be challenging and overwhelming, and can easily exhaust your physical and emotional energy, leading to chronic stress and burnout. Controlling the stress level that comes into your world and controlling your response and perception of stress is the key to burnout.
Everything you give to others has to come from somewhere so you must recharge and refill that place inside you and do things that bring you happiness and peace.
Certified Health Coach Brenda Shropshire, who's the Wellness Coordinator at Community Behavioral Health in Philadelphia, says that those who choose a career that involves caring for others often over-give and their inner "well" becomes depleted. "There is no endless supply of you," she says. "Everything you give to others has to come from somewhere so you must recharge and refill that place inside you and do things that bring you happiness and peace."
Signs of Feeling Stressed
Everyone internalizes stress differently but there are some signs that indicate your body is feeling the strain. Nod your head if any of these symptoms sound familiar: aches and pains, sleep disturbances, chronic irritability, weight gain in the waist, depression, morning or evening fatigue, low libido, and sugar/food cravings, to name a few.
Not only is it important to recognize when your stress is out of control, it's equally essential to realize when you need a dose of self-care to function at your best.
Tips for Self-Care and De-Stressing
Fortunately, there are ways to relieve your stress levels:
Say NO! Just because you know how to or can do something doesn't mean you have to do it.
Eat regularly and make sure your meals are nutritious and healthy (control your blood-sugar stressors).
Counteract stress with stretching, deep breathing, yoga, Pilates, or walking. Exercise helps reduce cortisol.
Exercise aerobically to relieve stress—and outside whenever possible. Matching stress levels with intensity of exercise can improve sleep.
Consider daily meditation to help decrease stress on the mind and body. Work up to 20-minute daily sessions. Mindfulness slows down your perceptions of stress and helps ground you to the present. It's easy to feel burned out if you feel like you are always catching up.
Increase fun activities that fuel your creativity such as gardening, painting, or cooking—whatever you enjoy. If you are struggling to make time, sign up for a class. Even an hour a week makes a difference.
Sleep 7-8 hours per night, and if you can't, don't overlook a 15-minute power nap.
Share how you're feeling with someone, whether it's a friend, family member, colleague, or therapist.
Get more help if you need it. Suicide levels in health care workers is real. The world would be less special without you. The number for the National Prevention Suicide Hotline is 988.
Brenda recommends that you also schedule in some downtime to "recharge your batteries" and advises thinking back to a time when you did something that brought you joy. Then, evaluate your schedule and look for opportunities to create a time designated just for you. She says not to think of taking care of yourself as something decadent or selfish. If you don't get in your ME time, it will show up in your attitude and daily outlook.
Your new mantra for the rest of the year: When caring for others, care for yourself, too. In other words, you have to put on your own oxygen mask before you can help anyone else.
References