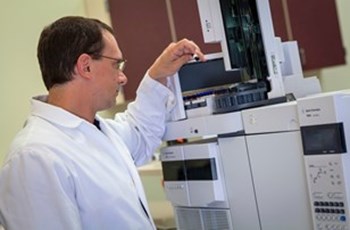 It may come as a surprise to most people that each year, the last full week of April is dedicated to recognizing and celebrating laboratory professionals.
This year Medical Laboratory Professionals Week falls on April 24-30. Setting aside one week a year to acknowledge these experts is a perfect opportunity to increase public awareness of, and appreciation for, clinical laboratory personnel. 
Just who are these hormone laboratory professionals? They are the skilled individuals whose expertise is vital to laboratory testing. At ZRT, state-of-the-art testing equipment is the norm and each instrument has an experienced specialist or team of specialists at the controls.
Under the guidance of the lab director, the laboratory manager oversees the daily operations. The laboratory/logistics supervisor assists her to keep things running smoothly. ZRT's unique means of collecting body fluids and testing them is performed through multiple methods. Lab personnel are divided into five teams: specimen processing, saliva, blood spot, urine, and research. Many of the people that make up each team have worked together for years. Cross-training between teams is typical and provides continuity of sample processing.
Specimen Processing Team
The Specimen Processing department consists of specially trained individuals who receive the saliva, blood, and urine samples returned to the lab. In a nutshell, their responsibilities include opening the return envelopes and checking the contents. Then they individually bar code all lab requisitions and samples. They enter the pertinent information provided on the lab form into the computer system and initiate the reporting process. This includes the complex task of entering medication, hormone, and other supplement information the tester has provided and which is needed to complete the report. All samples are then sent to the lab for testing.
Saliva Team
ZRT's unique means of collecting body fluids and testing them is performed through multiple methods.
For saliva testing, the process of preparing, extracting and measuring hormone levels is performed both manually and by advanced, precision, automated instruments. The basic saliva tests are performed by four of the specialists, using immunoassay. Estriol and estrone saliva samples are processed through liquid chromatography-mass spectrometry (LC/MS), which is a highly sensitive method of measurement particularly suited to analytes at very low concentrations.
Dried Blood Spot Team
Blood spot testing, using capillary blood from a finger-stick is less invasive than the venous blood draw employed for serum and effectively equivalent for many analytes. Analogous to saliva testing, blood spot samples are tested by immunoassays with the exception of vitamin D, which is tested by LC/MS, a method regarded as the gold standard for accuracy.
Dried Urine Team
Dried urine testing for elements includes essential nutrients such as iodine and selenium, as well as heavy metals like mercury, arsenic and cadmium. These analytes are measured by inductively coupled plasma mass spectrometry, or ICPMS, one of many state-of-the-art instruments used at ZRT Laboratory. Urinary steroid metabolites are also measured from dried urine. For the metabolites profiles another specialized piece of laboratory equipment, gas chromatography-mass spectrometry, GC/MS, is used, as well as LC/MS, depending on the metabolite being tested.
Research Team
Research is at the heart of ZRT as the initials signify, Zava Research and Testing (read more about Research at ZRT here). Under the lab director's supervision the group is charged with overseeing test method development, validation, and implementation of quality control. They continually work on process improvement and developing new, innovative tests. ZRT's Research Team is committed to the advancement of testing capabilities and innovative methodology, which is the hallmark of ZRT.
Clearly, ZRT Laboratory takes lab science seriously. With the variety of testing methods we use, quality lab personnel are crucial for keeping ZRT in the forefront of hormone and wellness testing. So although we appreciate our team of laboratorians every day, they deserve special kudos for jobs well done during this special week. Happy Medical Laboratory Professionals Week, ZRT lab staff!


Read More About ZRT