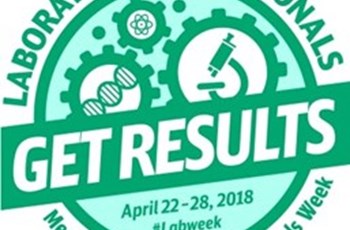 Medical Laboratory Professionals Week (MLPW) is a chance to bring awareness and to spotlight the achievements of medical laboratory professionals, whose work is essential to patient testing and fundamental to overall patient health care. There are 18 national organizations that sponsor MLPW, with approximately 300,000 practitioners of clinical laboratory science in the United States (http://www.ascls.org).
These organizations are dedicated to making a positive impact in health care through leadership that will assure excellence in the practice of laboratory medicine. Many laboratories plan tours and various other activities during this week to educate non-laboratorians about the field of clinical testing.
This year MLPW falls from April 22-28 and as we do every year, ZRT will be celebrating our laboratory staff, those folks who are committed to working hard every day to ensure that our testing is performed efficiently and is of the highest quality. 
We celebrate this week with a variety of activities to show appreciation for the lab team – the dedicated technicians who work behind the scenes to perform critical testing every day.  Often, departments throughout ZRT take turns providing treats for the laboratory on a designated day during the week. We also plan games and activities that allow the company to get to know the lab team better. This has been in the form of a scavenger hunt or a type of "guess the lab member" questionnaire and, as always, there are prizes.  At ZRT, we like to end the week of celebration by having a group outing to include the entire laboratory department, which includes the specimen processing team who are vital to getting your samples logged in and passed to the lab for testing shortly after arriving in the mail. 
During this annual celebratory week, we want to recognize how important our laboratory team is to ZRT as well as have some fun. The celebration is made even more special by the fact that the whole company participates. Recognizing our skilled lab professionals for their efforts is just a part of ZRT's overall commitment to our customers and reflects the value we place on providing accurate and meaningful testing to benefit patients.
Related Resources