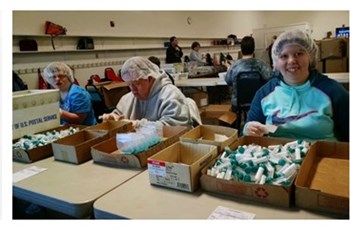 When ZRT Saliva test kits arrive at your practice or pharmacy, you probably aren't wondering about the journey they took to get there. But what if you learned that along the way, their assembly created jobs for individuals with developmental disabilities?
ZRT saliva test tubes are hand assembled by a team at Edwards Enterprises, an organization that provides meaningful, self-affirming employment to more than 150 Oregonians with disabilities in the Pacific Northwest. Since 1972, Edwards Enterprises has completed projects for hundreds of businesses, and has shaped a skilled workforce with a quality control system and excellent inventory maintenance program.
Watch this quick video to learn more about Edwards Enterprises:
Over the past 14 years, more than 75 people have worked, learned job skills and gained independence while working to assemble the saliva test tubes. The work is carried out in a special corner of the 30,000 square foot building, and the area is kept clean with hairnets, gloves and an organized workflow process. 
"As a diagnostic laboratory, there are certain specifications that need to be met for items to be certified. Edwards Enterprises consistently maintains the right quality control."   - Tom Long, Shipping Supervisor, ZRT
Edwards Enterprises performs both year-round and seasonal work for its customers. The ZRT saliva test tube project has provided steady, year-round work since 2003, allowing the organization to plan ahead for employees and operating costs.
I had the opportunity to visit Edwards Enterprises and was blown away by the enthusiasm each employee had for their work. The first thing I gathered when I entered the warehouse was a sense of camaraderie. The energy from employees is contagious, and the work spaces were filled with dedicated individuals focused on their task for the day. 
Fun facts:
One employee famously assembled 2,000 test tubes in one shift!
A few team members have been working on the ZRT job for more than 10 years.
The ZRT saliva test tube project is a coveted opportunity at Edwards Enterprises, and the employees take great pride in their work. The project is performed by 12-20 people per day in an assembly line. The tubes arrive unassembled - the team works to assemble all the tubes, apply the orange stickers, and package them. They also fold the UPS shipping packages to fit nicely in the test kits. On average, 8,000 test kits are assembled and 7,000 UPS bags are folded every other week.
Behind every saliva test kit you hand your patients, there's a hard working individual who has taken great pride in assembling it. That's something to feel good about!
Learn More:
Edwards Enterprises is a part of Edwards Center, a non-profit organization committed to improving the lives of those living with developmental disabilities in Oregon.