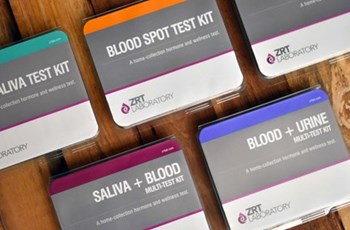 Health care providers (HCPs) who want to get started with ZRT Laboratory need only take a few easy steps to begin using our saliva, dried blood spot and dried urine tests. Simply set up an account, order kits and then identify the patients who can benefit from hormone, neurotransmitter, heavy metal, and cardiometabolic testing. Best of all, when HCPs have questions about reports and treatment plans, they can simply call our team of clinicians for answers.  
Want more details on using ZRT? Read on to learn Dr. Alison McAllister's 5 tips for successfully integrating ZRT testing into your practice.
1. Identify Patients Who Can Benefit
Not all practitioners commonly run tests, and some even worry about patients being upset about paying for them, but Dr. McAllister (who oversees her own private practice) finds that most patients really want this information. It gives them evidence about why they feel the way they feel, and test results also serve as the report card that validates their improvement.
Some of the common presenting symptoms that should identify patients who can benefit from testing include:
ZRT offers Patient Checklists, which can also be a helpful tool for identifying who can benefit from testing.
2. Pick the Right Profile(s)
ZRT offers a range of profiles, but there are 5 recommended by Dr. McAllister:
This is ZRT's most popular profile and a good baseline to see where a patient's hormone levels are. For follow up, Dr. McAllister recommends Saliva Profile I, which includes the same hormones but only morning cortisol instead of all 4 diurnal samples.
This is another popular profile and a good baseline to see where a patient's hormone levels are. It includes a range of thyroid markers.
This is ZRT's neurotransmitter profile, which includes a range of 14 parent and metabolite neurotransmitters, including dopamine, serotonin, epinephrine, norepinephrine, GABA and 9 others. Test neurotransmitters for cases of severe fatigue, anxiety, OCD or ADD, depression or insomnia. Hormones and/or elements can also be added for additional detail.
ZRT is the lab that first developed the Dried Urine Hormone Test and is expert at deciphering the complexities of what these levels mean. ZRT tests more estrogens than any other lab, and has unmatched expertise in evaluating these levels for breast cancer risk.
ZRT's panels focus on testing the 4 most toxic heavy metals – lead, mercury, cadmium, arsenic – and essential elements that include iodine, selenium, zinc, magnesium and copper using the convenient sample collection of dried blood spot and dried urine.
3. Dispense Test Kits
When handing out test kits during an office visit, Dr. McAllister has noticed that providers who are most successful will spend some time showing the kit components to patients. Once they understand how easy the collections are, and how they can all be done at home, they have more confidence – and are more likely to complete their test kits.
4. Collect Samples
ZRT offers detailed instructions and collection videos to help patients with sample collection. Once samples and paperwork are complete, patients can easily return their kits to ZRT via the enclosed 2-day UPS label (US only). Dried samples are shelf-stable for 30 days – over weekends, holidays, and even when it's hot – and saliva samples can be kept frozen until mailing.
5. Retrieve Results
ZRT offers the secure, online portal www.myZRT.com for results delivery. Reports can also be faxed or mailed for providers who request it. For HCPs who have questions after receiving patient results, don't hesitate to call the ZRT clinicians at 1.866.600.1636. They're available Mon-Fri from 9am-5pm PT – no cost, no appointment necessary and no time limits. They can help decipher tough cases and discuss treatment options.
Bonus! Educational Resources
As a bonus, ZRT also offers a wide array of educational resources for both HCPs and patients that range from webinars and videos to articles and brochures. Many of these materials are available for download online at www.zrtlab.com/resources, but we also have some printed booklets and brochures for patients that are available free of charge to providers. Just ask our customer service team or complete and return this form.
Hopefully these tips will prove useful in getting the hormone testing part of your practice up-and-running quickly and successfully. If you have questions or have ideas that you want to share, feel free to chime in with comments.