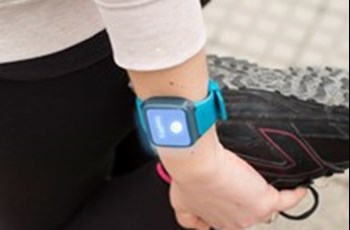 How many of your patients use wearable fitness trackers like a FitBit?
If recent statistics are any indication, it's probably a lot of them. Consider this:
According to research firm eMarketer, approximately 39.5 million U.S. adults used wearable fitness trackers in 2015 – a 57.7% increase over 2014.
A survey by Nielsen in 2014 indicated that 61% of those aware of wearable technology for tracking and monitoring medical conditions use fitness bands.

A survey from Accenture reveals that the number of consumers using wearable devices or mobile apps has doubled in the last two years. 77% of those respondents said that wearables make them feel more engaged with their health

.
While we can all agree that the market for wearables has taken off quickly, what (if any) actual value do these devices offer to those patients monitoring health conditions? If you ask me, there's significant value.
Taking Patients off the Sidelines
From tracking physical activity and sleep patterns to the future of tracking biometrics data such as heart rate and respiration, wearable devices have the ability to aid medical condition management. More than that, they help patients get off the sidelines and become active participants in their own health.
In fact, research firm eMarketer reports that a January 2015 study by Research Now showed 56.6% of U.S. adult mobile health app users shared their tracked health information with their doctors. Another study by Nuance revealed that 25% of U.S. internet users brought health data from a personal health monitoring device when going to a physician visit.
Taking it a step further, research conducted in December 2014 by Harris Poll for A&D Medical found that around one-fifth of U.S. internet users said they would use connected health devices to allow their doctor to be "in the know" to prevent surprises during visits.
6 Ways Health Trackers Motivate Patients
Taking a look at the reasons patients could be motivated by a fitness device, we see several trends emerging:
1. Increased Awareness
From steps and sleep to calories and cholesterol, it's nearly impossible for patients to know how they're doing until they see the data in a visual format. Alongside lab tests, wearable trackers and food journal apps can help patients stay on top of their important numbers and make better choices, moment-to-moment and day-to-day.
According to a recent survey conducted by Fitbit, 91% of users report that the devices assist with awareness of activity levels, resulting in better ability to reach their health and fitness goals. As we know, the road to health is built incrementally and little changes can add up to significant health improvements over time – but awareness is key.
2. Identifying Trends
Just as important as knowing day-to-day stats, it's equally important to understand trends in that data over time. The road to better health and fitness is not a straight line, but filled with peaks and valleys.
Looking at long-term trends can help identify certain times of the week or month where triggers arise. These stressors may lead to poor decision-making about what to eat or how much activity to engage in. Conversely, trend data also opens the door to celebrating long-term improvements as well.
3. Boosting Motivation
Health changes are hard to make when going it alone, and wearable health trackers can help provide the boost that patients need to keep moving.
90% of Fitbit users believe that the device motivates them to walk more, and 85% of users claim to take more steps now than before they started using their Fitbit tracker. Additionally, the study conducted by The Conversation with 200 FitBit users found that 91% took a longer route to increase the number of steps and 95% did it to increase their amount of weekly exercise.
In fact, a "reminder to move" feature was the most desired FitBit addition requested in customer surveys, so the company added it to their most recently-launched device (the Alta).
4. Establishing Accountability
Wearables take the work out of tracking progress by automatically recording stats and tracking them over time – which also makes it tough to "fudge the numbers." Suddenly the band strapped on your wrist or the device clipped on your belt is the coach who knows if you've skipped a workout or two. Luckily, 68% of the 200 in the FitBit study say they view this as a "friend who helps them reach their targets."
5. Accelerating Weight Loss
Weight loss is different for everyone and no one diet or meal plan fits all. However, studies consistently show that keeping a food journal can double a patient's weight loss. And patients who track their diets using an app, such as the one offered by Fitbit, can boost weight loss by an additional 15 pounds!
6. "Hacking" the Body with Data
Active patients who are looking to take their health to the next level often covet the feedback that wearable trackers provide, which may otherwise be hard to find. These patients can really dig in and "hack their bodies" with the data trends gleaned, making it easier to know when a goal has been tackled. Of the 200 FitBit users surveyed, reaching the daily targets created feelings of happiness (99%), self-satisfaction (100%), pride (98%) and motivation (98%).
The Future of Wearables in Healthcare
Corporate wellness: The U.S. is currently leading the way in wearables use, and many workplaces are instituting wellness programs that incentivize employees to get more active and track food choices. In fact, FitBit's name-brand corporate wellness customers include BP, Bank of America, IBM, Kimberly-Clark, and Time Warner. More recently, retail giant Target announced it would offer 335,000 Fitbit Zip trackers to its U.S. employees. 
Insurance costs: We can also expect to see more insurance companies offering reduced premiums to people who can demonstrate positive health metrics, such as consistent number of steps taken per day or week. As medical professionals in the Integrative specialty, we already know just how far these accountability tools may go in accelerating health status over the long haul.  
Healthcare research: In 2013, Mayo Clinic gave Fitbit trackers to 150 heart surgery patients to see if certain levels of activity would predict recovery times. As expected, the most active patients were released earlier than the group of less active patients.
Big tech: Some of the larger tech firms, such as Google, Apple and Samsung, are purportedly developing biometric tracking tools specifically for medical use along with cloud-based, HIPAA-secure repositories for the data collected.
Clearly, wearable health and fitness tracing devices are here to stay. Whether patients use low cost pedometers, bracelet trackers, smart watches or body sensors, the tools have clearly cemented their utility in the healthcare setting and will continue to help patients make better choices about activity, sleep and what to eat, every day.
EMRs Now Integrate with Wearable Technology
One of the missing links in using fitness trackers to improve patient outcomes has been the lack of portability with the data. After all, it's cumbersome for patients (and health care practitioners) to share the data by having patients bring it to an appointment. Those looking for a solution have sought an integration that allows fitness tracker data to be imported directly into a provider's EMR system.
And now, some systems allow EMR tracking of fitness data. One such example is the Power2Practice EMR, which can automatically import a patient's Fitbit data into his or her patient record. Using the online portal, patients can watch activity and sleep trends alongside other important health numbers, such as lab data, while accessing educational resources about their health conditions or prescribed supplements and medications.
Practitioners, Share Your Thoughts
Those who speculate about the future of wearable fitness trackers see only more growth on the horizon, and they see additions of advanced sensors on devices – like blood pressure or stress monitoring, or more stats about athletic performance. Some companies are even working on so-called "smart clothing" – where you can skip the wristband because your shirt is able to track your workouts.  
I welcome practitioners to chime in on this conversation about the usefulness of fitness trackers in their own practices, as well as the trends they see emerging with patients.
Related Resources