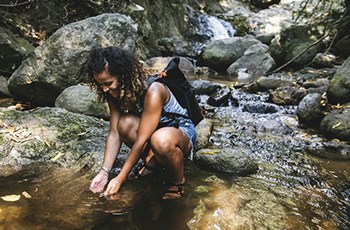 As a laboratory that tests for hormone imbalances and exposure to environmental hazards such as heavy metals and BPA, we are acutely aware of the need to be responsible caretakers of the environment. We try to do our part in minimizing unnecessary waste products that can ultimately find their way into the food we eat, the water we drink and air we breathe. This blog looks at some of the ways we strive to do our part to use sustainable materials and limit waste.
No Radioactivity in Our Assays
We use several methodologies to test saliva, blood spot, dried urine, and serum samples; these include various types of mass spectrometry, immunoassays, and others. One method we choose not to use is radioimmunoassay (RIA). RIAs are generally accurate, easy to perform, and relatively inexpensive. They also produce radioactive waste. Instead, we choose to use other highly sensitive enzyme-based immunoassays with appropriate extraction steps to maximize assay sensitivity and accuracy.
Sustainable Kit Boxes
Our versatile plastic "clamshell" kit boxes are made of sustainable packaging containing up to 100% post-consumer recycled content. This EcoStar® PET (polyethylene terephthalate) material made by Placon is composed of recycled plastic bottles and mixed bales of thermoform packaging, which meets current domestic RPPC (Rigid Plastic Packaging Container Program) laws and contributes to keeping more than 1 billion plastic bottles from entering landfills each year.
Saliva Tubes Made from Recycled Plastic
All packing peanuts that we use are made from compostable vegetable starch.
Our saliva collection tubes are made of recycled polypropylene.
Biodegradable Packing Materials
We occasionally receive requests from concerned health care providers not to include packing peanuts in their test kit shipments. We are happy to assure you that all packing peanuts we use are made from compostable vegetable starch. These are entirely biodegradable, leaving no residue, and are water-soluble.
Recycling
Wherever possible when following safety and quality protocols, we recycle. Since we ship and receive hundreds of packages of test kits and human specimens every day, that amounts to a lot of recycling. This includes several hundred pounds per week of cardboard shipping boxes, plastic clamshells, as well as paper items such as instructions and inlays from returned sealed kits.
Providers Can Go Paperless
All test results provided by ZRT Laboratory, as well as most account management features, are available digitally through our myZRT portal and can be integrated with several electronic health records (EHR) providers. At present, over 80% of test reports are accessed using one of these paperless options.
Employee Mass Transit Subsidies
ZRT offers subsidized passes to employees who take advantage of mass transit, as an incentive to keep a few extra cars off the road.
Environmental Consciousness at the Lab
All lighting at the ZRT laboratory facility is either energy-efficient T5 or T8 fluorescent lighting with electronic ballasts, compact fluorescent lights, or LED lighting. Staff are conscientious about turning off lights when they leave the building (or a stern reminder is sent by our facilities manager!) Also, no glyphosate herbicides are used around the building for weed control.
At ZRT we try to be mindful of our surroundings and to live the message we preach about optimizing health and protecting ourselves from chronic diseases. Avoiding putting harmful things into our bodies is a good start when seeking to improve wellness, and testing for harmful toxins like heavy metals or assessing disturbances in hormone balance that may be related to exposure to endocrine disruptors can be key to recognizing hidden dangers. Learn more about ZRT's Heavy Metals and Essential Elements testing today. 
Related Resources