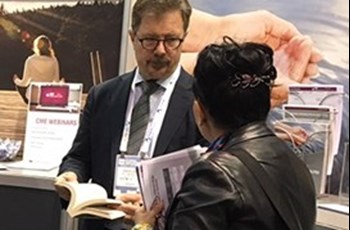 From time to time, we have practitioners ask for advice on how to find and (most importantly) motivate patients. As a marketing team, we spend lots of time thinking about this, and we're happy to share our pearls of wisdom.
In a series of blogs, we'll outline our favorite ideas for reaching more – and connecting more with – patients.
Pearl #2 – Event Marketing
One of the simplest ways to meet prospective new patients or clients is to exhibit at a local event. If you're feeling creative, you can also consider hosting your own event. Both are effective for starting a conversation with people and for sharing your expertise as a health care practitioner.
So, how do you start? Here are a few ideas:
Attending a Local Event
Event marketing is effective for starting a conversation with people and sharing your expertise as a health care practitioner.
There are a variety of community events that you can consider, and one of the easiest places to start is looking for health fairs in your area.
In fact, a Google search for community fairs in our area of Beaverton, Oregon gave me a choice of several options. These events are generally hosted by health groups or hospitals, civic agencies or associations, or even local schools or news outlets.
If your online search doesn't result in any winning ideas, you can also try looking at the calendars for local venues or community centers to see if there is a health/lifestyle show event listed. Sometimes they have exhibit areas at the finish line of walks or races, or you could potentially volunteer to host an aid station at the finish.
I've even noticed in our area where farmer's markets are popular that some people get creative by hosting a booth to offer healthy recipes (for all the great fruit and vegetables at the market) or sample supplements – popular items like gummy omegas or vitamin D. It's a great way to meet healthy-minded people and make new connections in the community.
Once you find an event, what's next? I've fielded this question a number of times over the years, and my first suggestion is always to give people a reason to stop and talk to you. There are a variety of ways to grab attention. Here are a few of my favorites:
Offer a raffle item: pick an item associated with your practice or pharmacy and have people enter to win a drawing. This could be an array of supplements, a basket of skincare products, or a couple of healthy cookbooks. I've even seen practitioners use ZRT test kits as a raffle item.


Offer a discount: does your business offer cosmetic procedures or sell related products? Create a coupon that you can hand out at the event. Give prospective patients or clients a reason to book their first appointment with you.


Offer a free analysis: would a quick, no cost health analysis get people to stop? Perhaps it's a weight analysis or blood pressure check. I know one practitioner who gives patients a free single hormone test (estrogen for women, testosterone for men) to get them coming in for HRT treatment.
Host Your Own Event
If you're not finding any local events that sound like a fit, try hosting your own. There is a surprising variety of ways to do this, such as:
Host a presentation: Talk to your library or community center about hosting an educational presentation. This gives prospective patients or clients a chance to learn about the role of hormones in everyday health and increases your local visibility as a practitioner or pharmacy.

If you like this idea but worry about what to present, let us take the work out of it for you. ZRT has several prepared slide decks addressing weight loss, sleep balance, skin vitality and stress management that we're happy to share. You can download those here.*
Host a workshop: If your practice location or pharmacy has space, you can host a workshop event right there. Pick a time and day (evenings or weekend afternoons are best), offer light snacks and drinks, and educate patients about hormone health for an hour. Add a quiz or free analysis to make patients feels like they're getting true value. You can even offering the extras we mentioned above – like a raffle prize or coupons.

Also make sure attendees get something to take home that encourages them to take the next step – like a booklet or brochures, or even product samples. ZRT offers a range of free patient literature that we're happy to send. Simply contact our Customer Service team for the range of options.
Host a coffee break or a luncheon: If you feel like taking it up a notch, find a local restaurant, health food store or coffee house to host your event. Make sure to provide the food and drinks, and follow any of the suggestions above.

If you have any connections with local authors, artists or community leaders, you could also think about asking them to join your meeting to put an interesting spin on the presentation. For instance, if you know an author who writes about women's topics, you could have her (or him) lead a discussion about women's health that then gives you the opportunity to provide booklets, brochures or articles as take-aways for the services you offer. This could also be combined with the coupons or raffle item ideas.
Keep the Ideas Flowing
These are just a few suggestions to get your creative juices flowing. Feel free to add your own twist to any of these ideas, or come up with even more creative ways to connect with patients.
You're also welcome to chime in on this blog with questions or suggestions. We're happy to share ideas!


*These slide decks are meant to be presented in their entirety. Please contact marketing if you'd like to discuss possible edits.


ZRT Marketing Tips Blogs