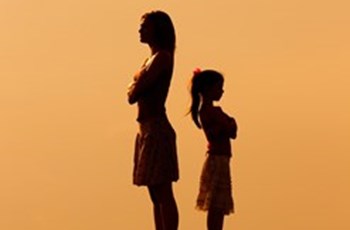 How well I remember the dismaying shock of menopause storming into my life...I was in my late 40s then and had just moved back to the States from England – a culture clash and-a-half. My daughters were still pretty young, 9 and 6 years old, and having a hard time adjusting to new schools on top of coping with an older mom whose hormones were suddenly in full revolt.
As I recall, Christmas was fast approaching but with hot flashes hitting me every 20 minutes, and mood swings in between, no amount of holiday cheer could cheer this mama up. In the dead of winter I kept cranking the windows wide open, and G'awd help anyone who complained of frostbite. "Try putting on another sweater," I'd bark at my husband and shivering little ones. Needless to say, my family was beginning to hate me.
A Winter's Night Wake-Up Call
I guess I should have built an igloo in the back yard and moved in. That might have helped. But when it came to helping me, I was my own worst enemy…drinking endless cups of coffee, eating all the wrong things, and never getting enough sleep! Forget hitting the pause button – I was in full-throttle menopause and letting it get the best of me.
The night before Christmas, the only creature stirring all through the house was I; woken by the sound of night sweats dripping on the floor (well it was almost that bad). Around 2am, I went outside to stand on the deck (in minus 10 degrees…ah sweet relief) when I heard a noise behind me. Was I about to meet the jolly man himself? Would he wag his finger in my face for scarfing all his cookies and being a mostly naughty, not so nice, peri-menopausal person? He would have been perfectly within his rights to do so.
I could expect my hormones to significantly shift as my ovaries started to wobble off in mid-life, but how steeply or severely that shift occurred was in large part down to lifestyle.
But no, it was Ryan, my little one, too excited to sleep. "Mommy, has Santa been here yet?" she asked looking over at the tree and then up at me, telltale crumbs trailing down my pajamas.
"Mommy, did you eat all the cookies we made for Santa?" she wailed, in horror. "Now he'll never come because of you, mean mommy!" Yep. A mean (hot, sweaty, flabby, crabby, itchy, bitchy) mommy, that's what I was. But I didn't want to be that person. And I didn't ever want to see that look on my child's face again! That was the beginning, the eve of my journey back to balance.
Imbalance Amplified by Poor Lifestyle Choices
I hit the books, starting with What Your Doctor May Not Tell You About Menopause, by Dr. John Lee – still the Holy Grail for women in menopause. A few pages in, I was in tears…he was speaking to ME! Hot flashes, night sweats, mood swings, weight gain, the dreaded belly fat, impatience, irritability, i.e. behaving like the wicked witch of the west to those you love best in all the world? I could blame it on my hormones!
As I drilled down into the physical, mental and emotional power of hormones, I learned that the extent to which I was out-of-sync with my moods, my sleep, my very sense of self, was all tied up with the extent to which my hormones were out of balance. Yes, I could expect my hormones to significantly shift as my ovaries started to wobble off in mid-life, but how steeply or severely that shift occurred was in large part down to lifestyle: how I chose to eat, drink, sleep, exercise, and handle stress – or not. Through trial and error, I found out how to get off the rollercoaster. I found that I could stop the madness to find my way back to balance AND to my family, who were only too happy to have mom back.
"Menopause Moms" Are on the Rise
The fact is that being a menopause mom has much to recommend it. In her book, Ready: Why Women Are Embracing the New Later Motherhood, Elizabeth Gregory, director of the Women's Studies Program at the University of Houston discovered that older mothers are usually more emotionally ready to cope with parenting. Gregory says that "many older mothers have met their career and personal goals so they can and want to focus on family."
In fact, over the past three decades, skyrocketing numbers of women have chosen to start their families in their late thirties and early forties. In 2005, ten times as many women had their first child between the ages of 35 and 39 as in 1975, and thirteen times as many had their first between 40 and 44. But with that comes the challenge of moving into menopause just about the time your children are hitting their tweens or like me, getting their period the day you turn 50!
If like me, you had your children later in life and never again want to see that scared or perplexed look on their face when you're in a menopausal meltdown, read on for the answers you need to feel like yourself again.
5 Tips to Being a Balanced Menopausal Mom
Buy Dr. Lee's book (above) and read it cover to cover. Then buy Christiane Northrup's, The Wisdom of Menopause, and read it cover to cover.
Get your hormones tested to determine whether and to what extent your hormones are out of balance.
Find a provider to partner with for prescribed hormone therapy
If testing reveals imbalances requiring hormone support insist, on 

bioidentical

hormones (HT).
Support your adrenal glands! They have to manage your stress response, energy levels, and immunities and take over all hormone production in mid-life, so these mighty little glands need all the help they can get: optimal nutrition, exercise, stress control, sleep and pursuit of meaningful work and ME time.


More about Menopause