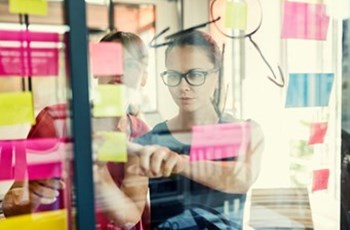 I recently helped a doctor with three problems he was having in his practice:
First, he was not getting enough new patients in the door.
Second, he had recently purchased new equipment and the utilization (sales) were far less than expected.
Third, he recently completed a respected industry certification program, but patients were not beating down the doors to take advantage of his new expertise.
He seemed to be doing all the right things…
He was buying Facebook ads and boosting popular posts, participating in online summits and being interviewed on podcasts; but he was baffled because he wasn't getting the results he expected from this exposure.
In theory, all of the things he was doing should have worked. So what happened? Why were his results so disappointing?  
Reassessing the Situation
It didn't take long to see where the problem was. There was one critical hole in his strategy, and it was huge: he did not take the time to target his ideal client. He simply was not getting the attention of the people most likely to want or need his services.
When I asked him who his ideal client was—he was not too certain. And when I asked the staff, everyone had a different answer—and all their responses were vague and a bit watered down (like anybody who is still breathing is good!) No one was 100% crystal clear. So it was no surprise that they weren't attracting many clients, much less the ideal ones!
The number one thing that I have learned from 30 years experience in marketing and advertising is this: know your audience.
When you know who will benefit most from your services and will be receptive to what you offer, you can create the marketing strategies that will specifically speak to your best prospects. This allows your message to stand out and positions you as the obvious best choice to help them.
This is without question the most important thing you can do when it comes to filling your practice. By narrowing your focus and gearing your messaging and services toward the people you can help the most, you'll attract the clients who are the best fit for you – and will be thrilled that they have found you.
Four Key Rules of Targeting
This foundation is a good marketing strategy that, frankly, works for any business.
There are 4 things you must pay attention to:
Identify your ideal client, as this allows you to know where you are likely to find them (online or in the neighborhood)
Craft your message to get their attention (based on their wants, needs and problems)
Position your product or service as the best choice to meet their needs
Don't forget to include a strong call to action. Always have a call to action, even if you just ask them to leave a comment or visit your website!
Why Focus is Beneficial
If you are like many of my clients, you may still not be convinced. This is a difficult commitment to make, especially in a functional medicine practice—because after all, you can help pretty much everyone, right? And it seems counter-intuitive to turn people away.
Never be afraid to let the wrong patient go. In doing so, you'll be making room for the patients who want to get well and are highly motivated to follow your advice and stick with your program.
But let's take that one step further and ask the question "Do you really want to help everyone???"
I had my own "Aha" moment about the benefits of focus years ago when I was managing a practice that had begun to offer more ancillary services. We were just starting to identify our niche at that point and still weren't clear who our ideal client was. We had a new patient who, unfortunately (and surprisingly), turned out to be difficult from start to finish. He repeatedly questioned our process, argued that supplements didn't help anyone, and even demanded to know if the AMA approved of the service we were recommending. He was exhausting and difficult!
The takeaway is that when your less-than-ideal target client DOES become your patient, it's likely they won't be compliant with their supplements, or anything else that requires work on their part…and then they will blame you because your program didn't work!
Never be afraid to let the wrong patient go. (Just remember to give them a referral to a colleague they will be a better fit for). In doing so, you'll be making room for the patients you do want in your practice – clients who want to get well and are highly motivated to follow your advice and stick with your program.
Still in need of a few more ideas for how to proceed? Read on.
Practice Tip #1: Ask for a Referral Source
One tactic that will help you learn more about your ideal client is to always ask for a referral source from new patients. Birds of a feather flock together, and knowing who referred them can give you valuable insight.
Practice Tip #2: Complete an Avatar Worksheet
I've designed a helpful tool called the Avatar Worksheet to assist you in identifying your ideal client, also known as your "avatar" – that is, the representation of the perfect patient for your office, or a great candidate for a program you have designed.
The Avatar Worksheet will help you zero in on who they are, where they are, what they like and what they don't, etc. The more you know about your ideal client, the better you will become at finding them, attracting them and creating copy that gets them in your office.
If you attended the webinar I did with Dr. Allison Smith about designing packages and programs, you may have already downloaded this worksheet. If not, you can download it here for free!
Whether in a Facebook ad, on a podcast, or a summit interview, this worksheet will help you gain the tools to attract more of your ideal clients, and help create an easy energy, flow and feeling in your office.  
Take the Next Step
If you have additional questions about targeting your ideal client, feel free to comment here or email me at pattie@pattieptak.com.
Pattie Ptak has 25 years of experience in the health and wellness industry. She was owner and hands on administrator of a busy wellness clinic in Los Angeles for 18 years, helping to grow that referral-based practice from 11 to 200 patients a day in less than 3 years. She founded Practice on Purpose in 2012 to help doctors in private practice streamline their procedures, leverage their time, and create systems for a more efficient and profitable practice. Pattie teaches practice management for both the IFM and the A4M, and is on the Board of Directors of the Institute For Natural Medicine. For more practice-building strategies, visit www.pattieptak.com for a copy of the eBook: Five Ways to Get High Paying Clients to Come to You.
More Marketing Tips from ZRT